transforming a place into a collective audiovisual instrument
media music room is a collaborative workshop held in DauHaus Sofia, aiming at transforming a place into an interactive and collaborative music audiovisual instrument, through hacking and bending things at hand. During a week, a small team worked using all kinds of recycled and in-situ materials (bench, lamps, microphones, clothe) and softwares (max/MSP, pure data, processing, flash, etc.) to create an interactive setup, made of a bench-o-phone, ceiling-lamps-turned-to-audio-delays, pen tablet drumloop mixer, joystick-contolled sound scrubbers, audiovisual feedback and synched projection fitting the location architecture. This camp was open to any visitor as an opportunity for local people to meet, share ideas, bring their own audio/video material and conceive together. At the end of the week, an event was organized where anyone could play the multimedia instruments.
The project was also meant as a thought-provoking exchange on the notion of instrument in the contemporary society, following theories raised by John Cage or Christopher Small.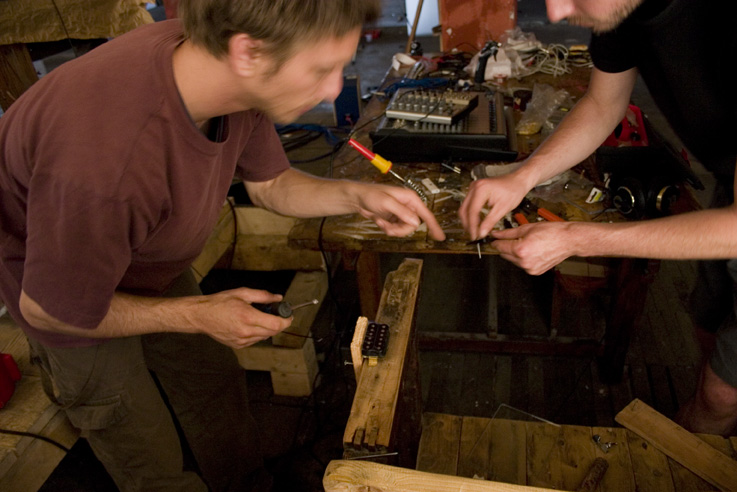 The project took place in studio DauHaus, during my residency in Sofia at InterSpace Media Art Center.
Special thanks goes to the French Institute for their support, and to Goethe institute and Pro-Helvetia for lending beamers.